Via Scoop.it – Virology News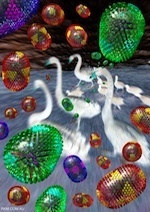 Via The Independent: New research warns of Olympics flu pandemic risk.
The millions of tourists coming to London for the Olympics will dramatically increase the risk that a flu pandemic in Britain might spread, according to new research to be published this week.
For Britain is ranked second in the world, after Singapore, in terms of the risk of an avian or swine flu outbreak spreading, according to a new study of more than 200 countries by the risk analysts Maplecroft.
Experts warn that the scale of the threat is vast. "There is little pre-existing natural immunity to H5N1 infection in the human population. Should the virus improve its transmissibility, the entire human population could be vulnerable to infection," states the research – citing previous warnings from the World Health Organization.
As we would say here in SA: ja, boet…. Look at it this way: if we could have a Soccer World Cup in South Africa IN A PANDEMIC YEAR, in the absence of any vaccine, without a national or international disaster – then I think this is just scare-mongering.
Image courtesy of Russell Kightley Media