See on Scoop.it – Virology News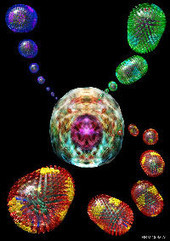 Geographic variables play an important role in the study of epidemics. The role of one such variable, population density, in the spread of influenza is controversial.
Prior studies have tested for such a role using arbitrary thresholds for population density above or below which places are hypothesized to have higher or lower mortality. The results of such studies are mixed.
The objective of this study is to estimate, rather than assume, a threshold level of population density that separates low-density regions from high-density regions on the basis of population loss during an influenza pandemic. We study the case of the influenza pandemic of 1918–19 in India, where over 15 million people died in the short span of less than one year.
Pandemic recombinant influenza virus graphic from Russeel Kightley Media
Ed Rybicki's insight:
This is an interesting paper, because it is one of the ONLY ones I have ever seen that analyses ANYTHING to do with the 1918 H1N1 pandemic, that comes from a developing country. Moreover, it makes what I think is possibly quite a valuable contribution to "health geographics", especially for high-denisty low-income populations.
I also note that 15 MILLION PEOPLE were estimated to have died in India ALONE: this is close to the old estimate for the WORLD total (20 million), which was revised upwards to 50-100 million after developing country stats were taken into account, in the late 1990s.
Makes you think what a new version might do….
See on 7thspace.com