See on Scoop.it – Virology News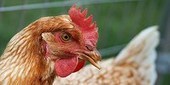 What scientists are learning about the zoonotic flu virus that has infected more than 100 people in China since February.
The virus appears to be more virulent than past H7 avian flu viruses in past outbreaks, which have caused conjunctivitis but have only been blamed for one death. Furthermore, this virus appears to be spreading from its hosts to humans unusually readily
Ed Rybicki's insight:
March 31 to April to publish several papers on the virus: new technology has enabled SUCH rapid progress these days, it is almost unbelievable.
See on www.the-scientist.com