See on Scoop.it – Virology News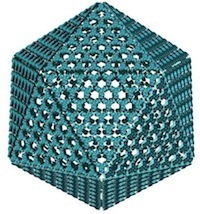 CD16-RIgE is a chimeric human membrane glycoprotein consisting of the CD16 ectodomain fused to the transmembrane domain and cytoplasmic tail of the gamma chain of the high affinity receptor of IgE (RIgE). Coexpression of CD16-RIgE and HIV-1 Pr55Gag polyprotein precursor (Pr55GagHIV) in insect cells resulted in the incorporation of CD16-RIgE glycoprotein into the envelope of extracellular virus-like particles (VLPs), a phenomenon known as pseudotyping. Taking advantage of this property, we replaced the CD16 ectodomain of CD16-RIgE by the envelope glycoprotein domain III (DIII) of dengue virus serotype 1 (DENV1) or West Nile virus Kunjin (WNVKun). The two resulting chimeric proteins, DIII-DENV1-RIgE and DIII-WNVKun-RIgE, were addressed to the plasma membrane, exposed at the surface of human and insect cells, and incorporated into extracellular VLPs when coexpressed with Pr55GagHIV in insect cells. The DIII domains were accessible at the surface of retroviral VLPs, as shown by their reactivity with specific antibodies, and notably antibodies from patient sera. The DIII-RIgE proteins were found to be incorporated in VLPs made of SIV, MLV, or chimeric MLV-HIV Gag precursors, indicating that DIII-RIgE could pseudotype a wide variety of retroviral VLPs. VLP-displayed DIII were capable of inducing specific neutralizing antibodies against DENV and WNV in mice.
Although the neutralization response was modest, our data confirmed the capability of DIII to induce a flavivirus neutralization response, and suggested that our VLP-displayed CD16-RIgE-based platform could be developed as a vaccine vector against different flaviviruses and other viral pathogens.
HIV matrix illustration by Russell Kightley Media
Ed Rybicki's insight:
Love it: using retrovirus Gag polyproteins that bud out of insect cells to carry a chimaeric protein that elicits neutralising antibodies against dengue and West Nile viruses. Love it because my lab has huge experience in making such particles, and we have tried to tout them as vehicles for display of other antigens…but haven't actually done it!
Modest titres, it must be noted: while I think this is a great paper, I am NOT convinced that retrovirus-derived VLPs will be of any use in such an application, because yields of particles via insect cells are simply too low. Sad, but true. HOWEVER: making a DNA vaccine out of it, on the other hand…would allow particles to be made in cells that receive the DNA, which would significantly increase their immunogenicity as it would expose cells that have NOT received DNA, to the immunogens.
Just a thought.
See on www.virologyj.com