See on Scoop.it – Virology and Bioinformatics from Virology.ca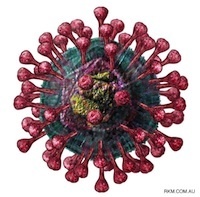 The severe acute respiratory syndrome (SARS) outbreak of 2002–03 and the subsequent implication of bats as reservoir hosts of the causative agent, a coronavirus (CoV), prompted numerous studies of bats and the viruses they harbor. A novel clade 2c betacoronavirus, termed Middle East respiratory syndrome (MERS)–CoV, was recently identified as the causative agent of a severe respiratory disease that is mainly affecting humans on the Arabian Peninsula (1). Extending on previous work (2), we described European Pipistrellus bat–derived CoVs that are closely related to MERS-CoV (3). We now report the identification of a South Africa bat derived CoV that has an even closer phylogenetic relationship with MERS-CoV.
Coronavirus graphic courtesy of Russell Kightley Media
Ed Rybicki's insight:
This is interesting and timely work – for which notice, thanks Stephen Korsman! – out of various labs in South Africa and elsewhere.
This almost certainly means that, as with paramyxoviruses in bats, there are a LOT of CoVs out there with the potential to infect other mammals – including humans.
Of course, this one should be the REAL SARSCoV – for "South African respiratory syndrome virus. Which would make all teh jokes about the SA Revenue Services even more pointed.
See on wwwnc.cdc.gov