See on Scoop.it – Virology and Bioinformatics from Virology.ca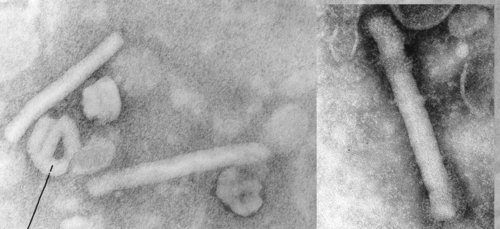 Background
Garlic production is severely affected by virus infection, causing a decrease in productivity and quality. There are no virus-free cultivars and garlic-infecting viruses are difficult to purify, which make specific antibody production very laborious. Since high quality antisera against plant viruses are important tools for serological detection, we have developed a method to express and purify full-length plant virus coat proteins using baculovirus expression system and insects as bioreactors.
Conclusions
The expression of a plant virus full-length coat protein fused to the baculovirus Polyhedrin in recombinant baculovirus-infected insects was shown to produce high amounts of the recombinant protein which was easily purified and efficiently used to generate specific antibodies. Therefore, this strategy can potentially be used for the development of plant virus diagnostic kits for those viruses that are difficult to purify, are present in low titers or are present in mix infection in their plant hosts.
Baculovirus image from own collection
Ed Rybicki's insight:
I love the way plant virology / biotechnology now makes use of the whole spectrum of mol biol: this paper uses cDNA clones of an RNA plant virus, via E coli, to make recombinant baculoviruses, to express a fusion protein in insect cells – to make sera for detection of the plant virus by ELISA and other serological assays.
I'm biased because my lab uses ALL of these techniques (and I would have made the protein via agroinfiltration in plants), but this sort of science has really come of age. One that I have lived through, incidentally, as cloning was VERY young when I started out – and ELISA had only just been invented.
I also know Renato quite well – so parabens, meu amigo!
See on www.virologyj.com