See on Scoop.it – Virology and Bioinformatics from Virology.ca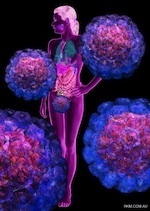 Because vaccine deniers lack any scientific evidence supporting their unfounded belief system about immunizations, they tend to rely upon unscientific information like anecdotes, misinterpretation of data, or ignorant Italian provincial courts to make their case. It's rather easy to debunk these claims, but because of the nature of the internet, old news is recycled as "brand new," requiring a whole new round of blog posts to discredit the misinformation. It's impossible to recall one single instance where a vaccine refuser made a statement about vaccines that was not, in fact, rather quickly debunked. Not one.
Cervical cancer / HPV graphic courtesy of Russell Kightely Media
Ed Rybicki's insight:
Great article: pity about the originally misleading title, though, which I have fixed for this blog.
See on www.skepticalraptor.com