See on Scoop.it – Virology News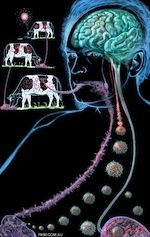 While agent host-range and strain properties convinced early researchers of a viral etiology, the once unorthodox postulate that prion transmission occurs by conformational corruption of host-encoded cellular prion protein (PrPC) by a pathogenic isoform (PrPSc) is now widely accepted. Indeed, conformational templating is increasingly understood to be a general mechanism of protein-mediated information transfer and pathogenesis. The high infectivity of prions, their capacity to cause neurodegeneration in genetically tractable animal models, as well as the ability to culture prions in cells, or under cell-free conditions using defined components, provide finely controlled experimental settings in which to elucidate general mechanisms for all diseases involving protein conformational templating, and thus to develop integrated therapeutic approaches.
Ed Rybicki's insight:
These things have fascinated me since I heard and read about kuru and scrapie as a student – and they still do. Alternative protein folding as a route to pathology – and transmissible!
Prion transmission graphic by Russell Kightely Media.
See on www.plospathogens.org