See on Scoop.it – Virology News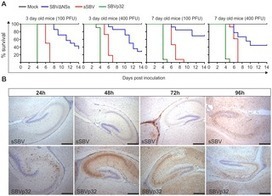 Schmallenberg virus (SBV) was discovered in Germany (near the town of Schmallenberg) in November 2011 and since then has been found to be the cause of malformations and stillbirths in ruminants. SBV has spread very rapidly to many European countries including the Netherlands, Belgium, France and the United Kingdom. Very little is known about the biological properties of this virus and there is no vaccine available. In this study (i) we developed an approach (called reverse genetics) that allows the recovery of "synthetic" SBV under laboratory conditions; (ii) we developed a mouse model of infection for SBV; (iii) we showed that SBV replicates in neurons of experimentally infected mice similar to naturally infected lambs and calves; (iv) we developed viral mutants that are not as pathogenic as the original virus due to the inability to counteract the host cell defenses; and v) we identified mutations that are associated with increased virulence. This work provides the experimental tools to understand how this newly emerged virus causes disease in ruminants. In addition, it will now be possible to manipulate the SBV genome in order to develop highly effective vaccines.
Ed Rybicki's insight:
A timely paper on a serious new emerging virus of livestock.
See on www.plospathogens.org