See on Scoop.it – IIDMM News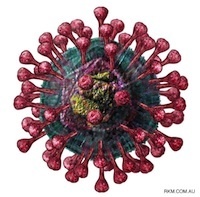 In September 2012, a novel coronavirus was isolated from a patient in Saudi Arabia who had died of an acute respiratory illness and renal failure.The clinical presentation was reminiscent of the outbreak caused by the SARS-coronavirus (SARS-CoV) exactly ten years ago that resulted in over 8000 cases. Sequence analysis of the new virus revealed that it was indeed a member of the same genus as SARS-CoV. By mid-February 2013, 12 laboratory-confirmed cases had been reported with 6 fatalities. The first 9 cases were in individuals resident in the Middle East, while the most recent 3 cases were in family members resident in the UK. The index case in the UK family cluster had travel history to Pakistan and Saudi Arabia. Although the current evidence suggests that this virus is not highly transmissible among humans, there is a real danger that it may spread to other parts of the world. Here, a brief review of the events is provided to summarize the rapidly emerging picture of this new virus.
Coronavirus graphic courtesy of Russell Kightley Media
Ed Rybicki's insight:
It is truly amazing how fast things can be done these days: it was only in SEPTEMBER that the new virus was isolated; the latest fatality was literally in the last couple of weeks.  It remains to be seen whether or not it will spread – given its apparent lethality, we can only hope it does not!
See on www.virologyj.com
Tags: coronavirus, novel virus, Saudi Arabia