See on Scoop.it – Virology News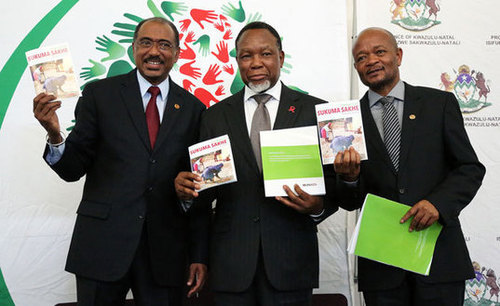 New data show that new HIV infections have been reduced by about a third from 2004 and 2012. The South Africa 2012 HIV Estimates and Projections at-a-glance report was launched in Durban, South Africa on 10 January by the Deputy President of South Africa, Kgalema Motlanthe and UNAIDS Executive Director, Michel Sidibé. Additionally, the Premier of KwaZulu-Natal, Senzo Mchunu launched the Operation Sukuma Sakhe Best Practices Publication at the same event.
There are 6.1 million people living with HIV in South Africa. Since 2009, the government has massively scaled up HIV prevention and treatment programmes. According to the National Department of Health, in 2012, some 2.2 million people were accessing HIV treatment, making it the largest HIV treatment programme in the world. The data show that the number of new HIV infections has dropped from 540 000 new infections in 2004 to 370 000 in 2012.
Ed Rybicki's insight:
At last! We may have passed the peak of the HIV pandemic – at least in SA – at last!!
It's been a hard road: denialism, activism, the biggest roll-out of ARVs in the world, socially engineering a whole population to change their behaviour – and maybe it's finally working!
South Africa needs a "viva!"!!
But we've still got 6 million-odd people infected with HIV – and they will be around for a while. Time for therapeutic vaccines!!
See on www.unaids.org