See on Scoop.it – Virology News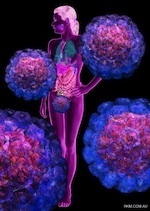 PRETORIA, Jan 19 (NNN-SANEWS) — Primary school girls in South Africa will from this year be immunised against the Human Papilloma Virus (HPV), which causes cervical cancer.
Announcing its launch at Ngidini Primary School in Libode in the Eastern Cape, President Jacob Zuma said government will target girls aged between nine and 12 years of age, through the Integrated School Health Programme.
"The Departments of Basic Education and Health will work closely together in this national programme to protect our girls from this disease.
"Vaccination teams from the Department of Health will visit schools twice a year to ensure that each girl-child receives two doses of the HPV vaccine. We urge parents to cooperate with us and help us succeed in fighting cervical cancer," said President Zuma.
Cervical cancer graphic by Russell Kightley Media
Ed Rybicki's insight:
At last! South Africa will finally make HPV vaccines available for free to schoolgirls between 9-12 – in preparation for their eventual exposure, via sex, to the viruses that cause cervical cancer.
HPV vaccines are blockbusters for a reason: they are one of only two viral vaccines that will almost certainly prevent cancer developing in a proportion of those who get infected with the viruses in question – which are, of course, HPV and hepatitis B.
And given that most humans have sex, a pretty high percentage of sexually active humans will be exposed to HPV and – to a lesser extent – HBV.
Sex is a normal activity. Vaccinating against sexually transmitted diseases is therefore a sensible thing to do. Vaccinating against HPV in a country where over 12% of the population have HIV, is even more sensible – because HIV worsens the effects of HPV.
Vaccination: the sensible thing to do.
See on www.namnewsnetwork.org