See on Scoop.it – IIDMM News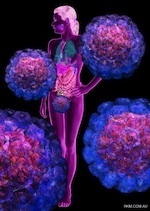 Background
Human papillomaviruses (HPV) are the causative agents of cervical cancer in women, which results in over 250 000 deaths per year. Presently there are two prophylactic vaccines on the market, protecting against the two most common high-risk HPV types 16 and 18. These vaccines remain very expensive and are not generally affordable in developing countries where they are needed most. Additionally, there remains a need to treat women that are already infected with HPV, and who have high-grade lesions or cervical cancer.
Methods
In this paper, we characterize the immunogenicity of a therapeutic vaccine that targets the E7 protein of the most prevalent high-risk HPV – type 16 – the gene which has previously been shown to be effective in DNA vaccine trials in mice. The synthetic shuffled HPV-16 E7 (16E7SH) has lost its transforming properties but retains all naturally-occurring CTL epitopes. This was genetically fused to Zera(R), a self-assembly domain of the maize gamma-zein able to induce the accumulation of recombinant proteins into protein bodies (PBs), within the endoplasmic reticulum in a number of expression systems.
Results
High-level expression of the HPV 16E7SH protein fused to Zera(R) in plants was achieved, and the protein bodies could be easily and cost-effectively purified. Immune responses comparable to the 16E7SH DNA vaccine were demonstrated in the murine model, with the protein vaccine successfully inducing a specific humoral as well as cell mediated immune response, and mediating tumour regression.
Conclusions
The fusion of 16E7SH to the Zera(R) peptide was found to enhance the immune responses, presumably by means of a more efficient antigen presentation via the protein bodies. Interestingly, simply mixing the free PBs and 16E7SH also enhanced immune responses, indicating an adjuvant activity for the Zera(R) PBs.
I thank Russell Kightley Media for use of the HPV/cervical cancer graphic
Ed Rybicki's insight:
I keep saying – you gotta go green…B-) And here we are, suiting action to words.
Modestly, of course.
Well done to Mark Whitehead and Thomas Oelschlager; thanks to Inga for sticking with a difficult ms – and thanks Era Biotech for the technology!
See on www.biomedcentral.com