See on Scoop.it – Virology News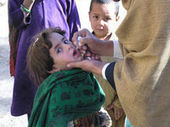 Health officials in Egypt and the world are scrambling to prevent an outbreak of polio after poliovirus from Pakistan was discovered in sewage samples collected at two sites in Cairo in December.
Genetic analysis just completed has linked the Egyptian viruses to one that was last seen in Pakistan in September 2012. How it got to Cairo remains unclear, but the genetic evidence suggests that the virus made the long journey sometime in the past 3 months. Egypt has been polio-free since 2004.
Ed Rybicki's insight:
It really is too bad that this should happen: while it is to be hoped that virus is being shed by people who are not / will not get sick, and that the population is sufficiently well vaccinated that it will not spread, the fact that there is still uncontrolled spread of wild-type poliovirus is hugely concerning.
See on news.sciencemag.org