Posts Tagged 'elderly'
23 August, 2012
See on Scoop.it – Virology News


China DailyWhat's Causing the Spike in HIV Infection in Old Chinese Men?
See on www.businessinsider.com
20 July, 2012
See on Scoop.it – Virology and Bioinformatics from Virology.ca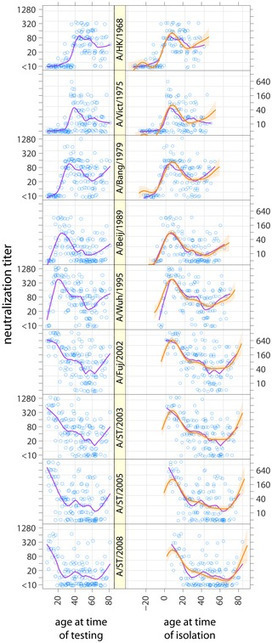 "A key observation about the human immune response to repeated exposure to influenza A is that the first strain infecting an individual apparently produces the strongest adaptive immune response. Although antibody titers measure that response, the interpretation of titers to multiple strains – from the same sera – in terms of infection history is clouded by age effects, cross reactivity and immune waning. From July to September 2009, we collected serum samples from 151 residents of Guangdong Province, China, 7 to 81 years of age. Neutralization tests were performed against strains representing six antigenic clusters of H3N2 influenza circulating between 1968 and 2008, and three recent locally circulating strains. Patterns of neutralization titers were compared based on age at time of testing and age at time of the first isolation of each virus. Neutralization titers were highest for H3N2 strains that circulated in an individual's first decade of life (peaking at 7 years). Further, across strains and ages at testing, statistical models strongly supported a pattern of titers declining smoothly with age at the time a strain was first isolated. Those born 10 or more years after a strain emerged generally had undetectable neutralization titers to that strain (<1:10). Among those over 60 at time of testing, titers tended to increase with age. The observed pattern in H3N2 neutralization titers can be characterized as one of antigenic seniority: repeated exposure and the immune response combine to produce antibody titers that are higher to more 'senior' strains encountered earlier in life."
An interesting paper, which helps explain several observations made over the years with pandemic flu: for example, in the 2009 H1N1 pandemic, older people seemed to be more protected – and rhe same was probably true of the 1918 pandemic.
See on www.plospathogens.org