See on Scoop.it – Virology News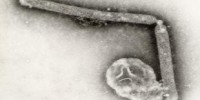 "After more than 6 months of heated discussion, the second group that succeeded in making the H5N1 avian flu transmissible between ferrets, considered a good model for human transmission, has published its results. The paper, which came out today (June 21) in Science, demonstrates that only five mutations are needed to confer this aerosol transmissibility among mammals, and that re-assortment between different types of viruses—a technique used by the other group, which published its results last month in Nature—is not necessary.
…
Said Fouchier in a press conference "We both find … loss of glycosylation at the tip of the HA molecule, and this loss of glycosylation seems to increase the receptor binding specificity of the HA". And though not all the mutations identified in the two studies match, "the mutations that are not identical still have a similar phenotypic trait," he added."
So this is what all the fuss was about? This is what the NSABB did not want everyone to know? How could they POSSIBLY think that the international virology and infectious disease community should be kept in the dark about this? What this work has done has pointed the way along a path that will lead us to understand why and how influenza viruses change in order to more effectively get transmitted when they switch hosts – which is a good thing, surely.
And yet all they see is bioterrorism.
See on the-scientist.com